Our Butte video conferencing suite is located in the Silverbow Business Center just next to the courthouse in uptown Butte.
Address
125 West Granite
Suite 206
Butte, Montana 59701
Phone: 888-344-4472
Fax: 406-586-0926
Features
2 Conference Rooms
Printer/Fax
Workspace with WiFi
Video Conferencing
Phone Conferencing
A/V Services
Hot Coffee and Refreshments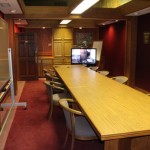 Additional Details
Reservation Policy
Room use is complimentary for parties booking our court reporting services. Please call us at 1-888-344-4472 to inquire about costs for other uses, including mediations, focus groups, business meetings, etc.
Parking Instructions
2 hour street parking. Ask Fisher representative for daily parking pass for longer sessions. Free unlimited parking lot 1.5 blocks North on the NW corner of W. Copper and N. Alaska Streets.
Cancellations
Please let us know as soon as possible, and by at least 3:00pm MST the day prior to your reservation, to avoid a cancellation fee. If you need to cancel after hours, please make sure to call us at 1-888-344-4472 to do so. Someone is on call to answer the phone and communicate any changes to our team for the next day. We do not monitor email after hours. Thanks for your consideration.